Winter 2016 / University of Michigan
Design Studio II with Steven Mankouche
A nine-week project at the scale of a landscape, in which iterative drawing absorbs the history of process, progress, and change.


Above:
Ann Arbor Amtrack Station, temporary density at 7:24 AM as train pulls in to leave



The Ann Arbor Amtrak Station runs three times a day: once in the morning, afternoon, and evening. At these three peak moments, the platform swells with people, who arrive to wait and leave. Then the train whirrs away, and the platform is empty once again — incurring its two-hundred foot span of dead space.

The following is a "transmediatheque" — a megastructure that stretches from Depot Street back to the Huron River, succeeding the current station. By lifting the train program to the second floor, public amenities such as café and museum space occupy a formerly hollow facade.
These spaces double as massive support pillars, opening up to neighboring Kerrytown residents. The historic Michicon factory grounds, a previously barren wasteland, now serve as an architecturalized landscape, opening pedestrian access to the Huron River, as well as a skybridge entrance from Broadway Street.

By revitalizing the former stretch of dead space, we might re-imagine Depot Street as an integral extension of downtown Ann Arbor, as opposed to the vacant lot at which it stops.






Above:
typical site condition, unoccupied and still
Above:
current site — located at the intersection of an extreme elevational shift and two main streets, Depot and Broadway
Directly below:
Initial studies in site approach and pedestrian access
Bottom:
Cross section, exploring punctures and plays between the two floors
Directly below:
Modeling progres on the final iteration, handcut and measured
Bottom:
Longitudinal section, cut through the entry procession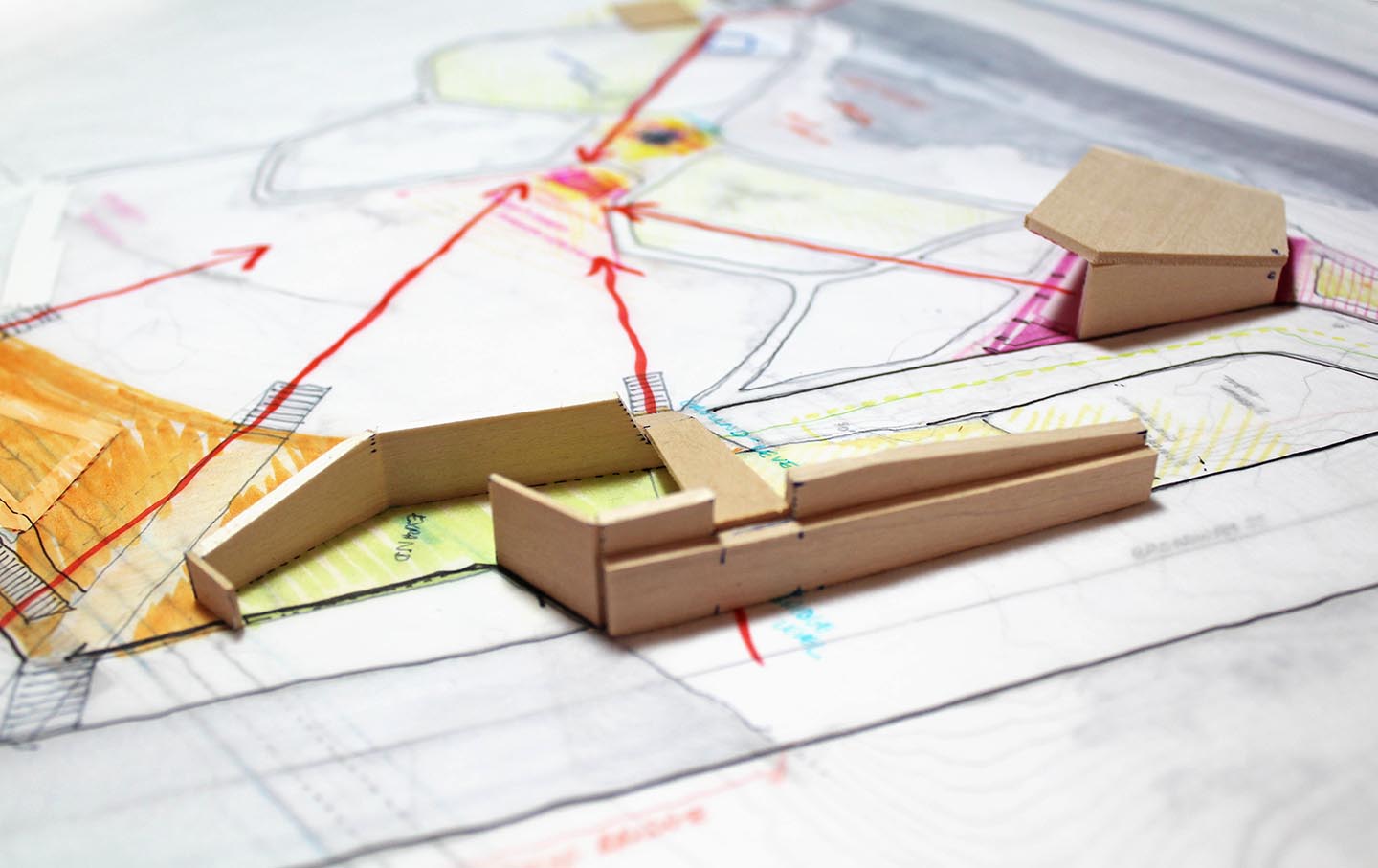 sections:
a week of computer drafting then two weeks of successive pen, white-out, acetone transfer, and trace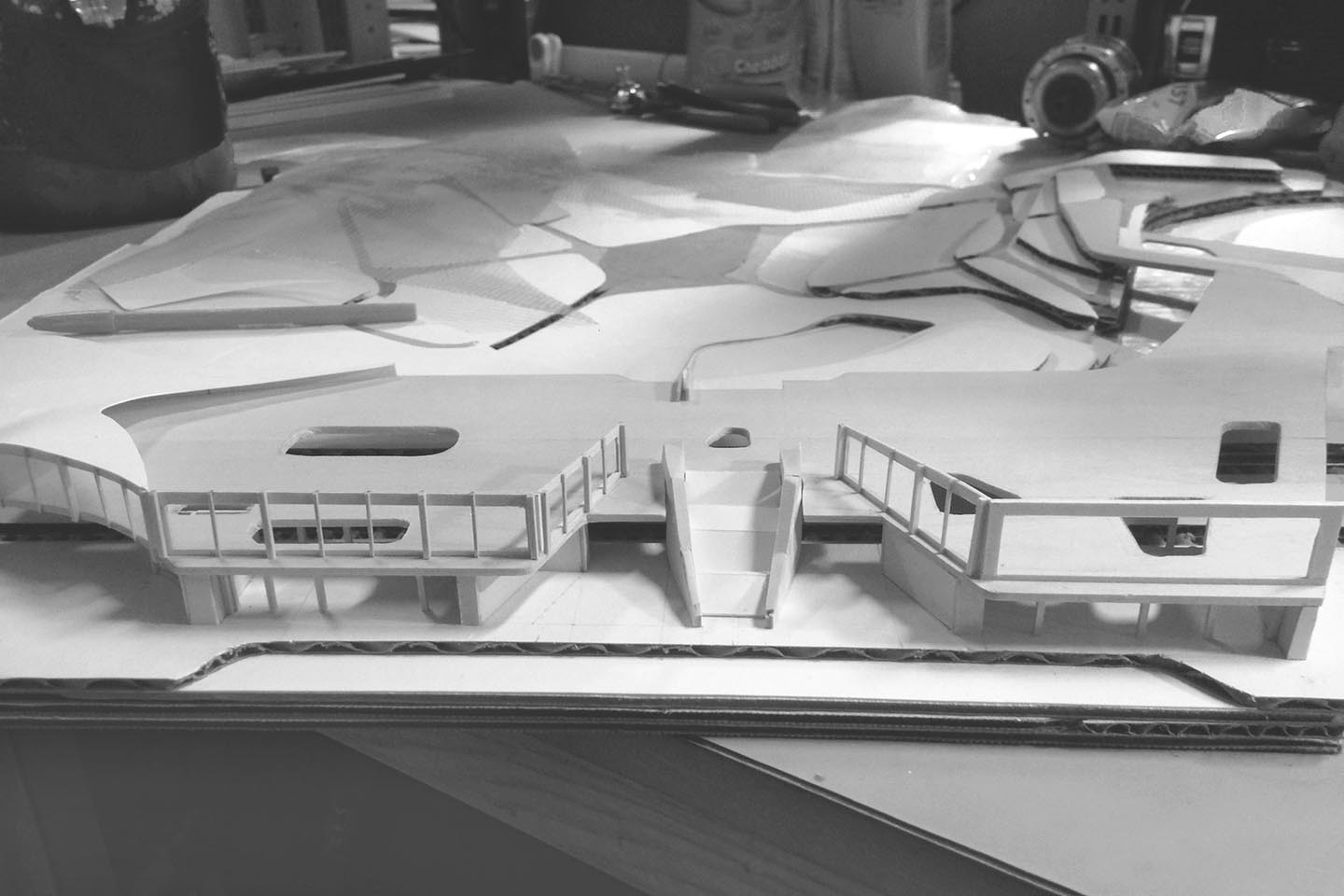 The methods of working in the project were extremely incremental. Both the models and the drawings were long-term investments, in which one intial framework was built, revised, re-cut, and then finessed again atop the same base.
However, I spent the majority of the semester drafting and re-drafting the plans seen below,



which allowed a particularly clear understanding of the scalar relationship between spaces, but a rather clumsy grasp of elevation when it came to the model. While it was a semester that legitimized an iterative method of drawing, it was also a semester in which I learned the importance of modeling in tandem with drawing.
Above:
plan /
ground floor
/ 4 successive weeks of scanning, acetone transfer, trace, pen, and marker
Above:
plan /
second floor
/ 5 successive weeks of printing, acetone transfer, trace, pen, and marker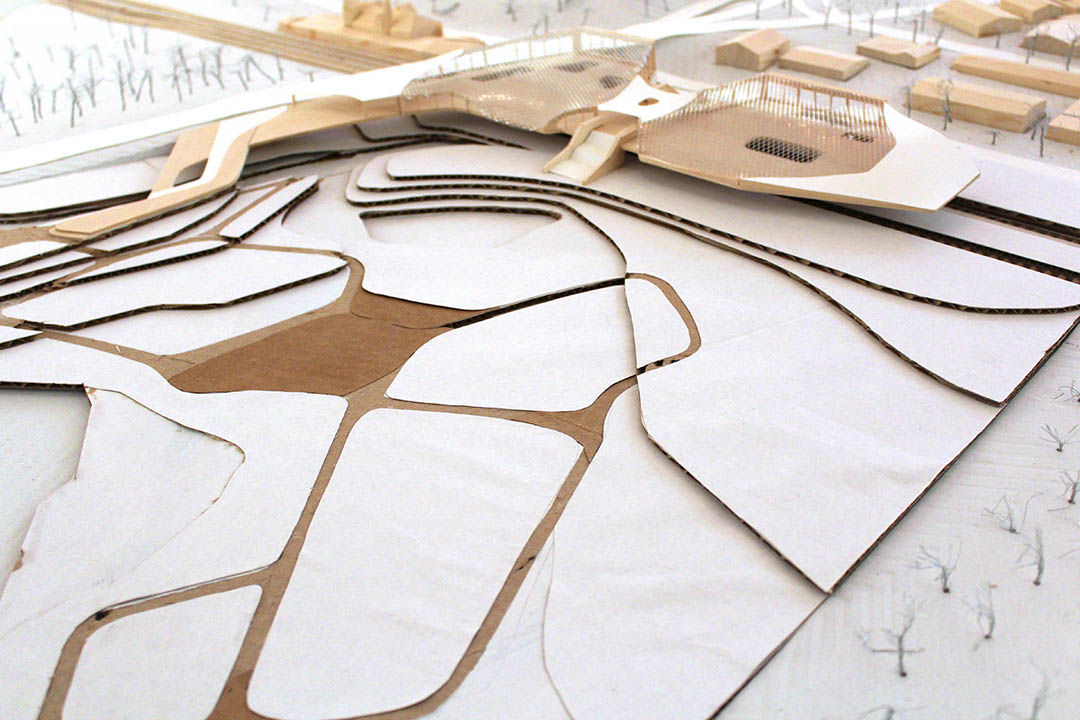 Above: final model, 1/32" scale