Spring 2020 / Harvard GSD
Nominated for the James Templeton Kelley Prize M.Arch Thesis, advised by Grace La
Site: Union Square / San Francisco, CA
A thesis at the intersection of desire, display, and theatricality. Here, bridal becomes the vessel through which to explore architecture's upending relationship with how we purchase and produce things.




Above: Early programmatic mapping. Can we develop a hierarchy of commodities, which revolve around a central spectacle? (In this case, the dresses.)



Digital culture created remote possibilities, which questioned the relevance of architecture. Nowhere did this register more clearly than the case of shopping, where the "retail apocalypse" declared the death of an age-old architectural lineage.

E-commerce — shopping's touted heir — indeed redefined how we consume. Instead of perpetuating a congregational place, it introduced a solitary act. This shift from public destination to private dispersal threatened social rituals long embedded in our city fabric. Moreover, it trivialized an urban scale of public life, which risked irrelevance without re-calibrating for the contemporary consumer. Under these new parameters, shopping demands an adaptation.



This thesis reimagines the future of shopping for the digital age. Through the design of an all-inclusive bridal store, retail program blurs the boundary between our need to fit and hold, and our desire for instant convenience. What would it look like to merge the hyper-intimacy of bridal shopping with the anonymity of online shopping? More importantly, how do we leverage tensions between the physical and digital to re-envision stores more relevant to contemporary life?

Set in San Francisco Union Square, this store occupies a faltering retail district, whose vacancies tripled in the past three years. Continued closings and volatile foot traffic all demand a new, more nimble model of retail: one that wields its own physicality for sensorial, experiential gain. When placed within an expanding digital realm, this thesis becomes one of exploratory redefinition, where questions of access, excess, and obsolescence nest themselves within a larger question of how we'll consume tomorrow.




the history of shopping, (condensed)
500 BC — 2005:
Shopping's history can collapse into two eras. The first — (and the bulk of shopping as we know it) — is a congregational destination, or a physical place.
This initial genealogy can further condense into just three bullet points:
(1)
the roman forum,
(2)
the crystal palace, and
(3)
the department store, which develop an increasingly autonomous interiority.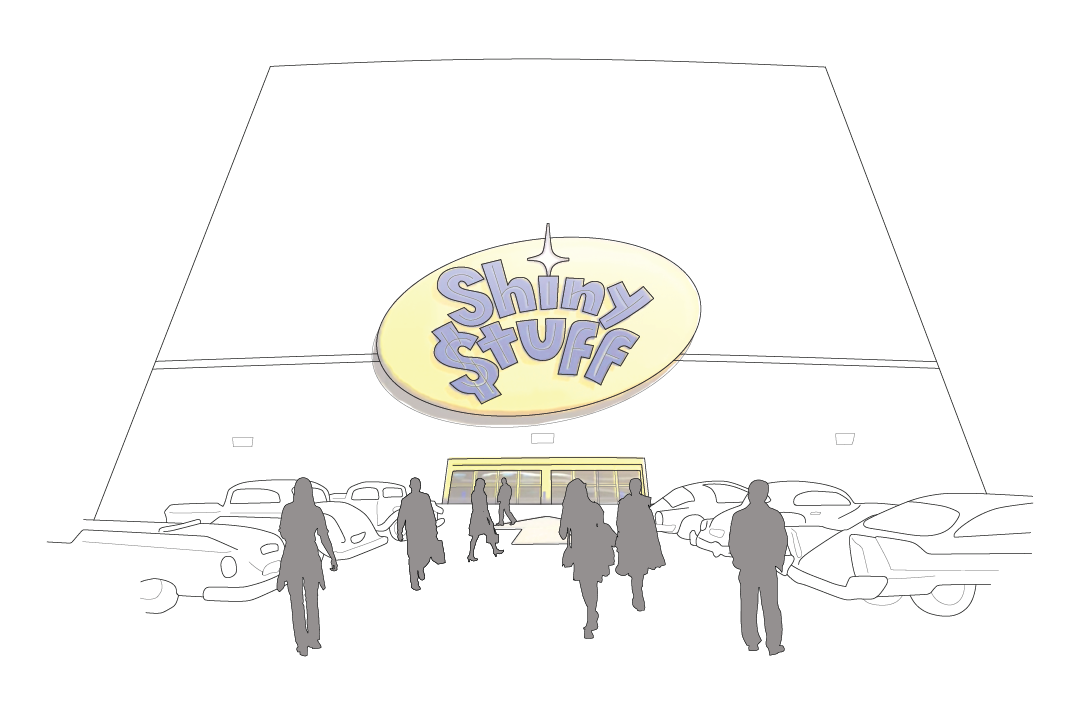 1 / CONGREGATIONAL DESTINATION
ROMAN FORUM / shopping as open terrain


1 / We start with the forum because it originated as a market. On one flat terrain, it consolidated basilicas, temples, and stalls.


2 / Thus, one could visit the forum and satisfy multiple different needs in one swoop: legal, civic, and religious, in addition to material.


3 / This offered a centralized model for public life — placing shopping at the most primary node.
4 / Its architecture consisted of an open plane upon which to place structures, accumulating an organic terrain.
CRYSTAL PALACE / shopping as enclosed sprawl